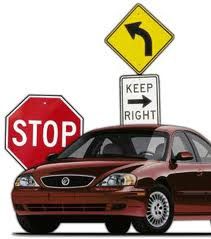 Motorists have a great many factors to deal with when driving, especially those less experienced. There are road and weather conditions with which to contend. Younger drivers are more susceptible to psychological or emotional states interfering with their driving. Distractions from technology, such as cellular phones, is an ever growing concern.
Sometimes events are unavoidable. If a driver is involved in an accident, they may have not only monetary consequences to deal with but also psychological and emotional ones. Even merely getting a motoring violation can have severe consequences through the accumulation of penalty points on a driving record.
It is crucial to have the skills and strategies to recognize hazards, avoid accidents, and respond properly if the unexpected happens.
Driving schools go beyond basic traffic laws and procedures to teach students how to anticipate and react to whatever situation might arise. It is impossible to predict every situation that at driver may face. However, by learning strategies to identify and address hazards, motorists can reduce their driving risks and make well-informed decisions behind the wheel.
It is not unusual in New Zealand to get a motoring violation due to lack of knowledge of the legal system, rather than incompetent driving. An accumulation of violations can lead to legal actions being taken such as having your license restricted. By attending approved courses, the restricted license period for those under 25 can be reduced by 6 months and by 3 months for those over 25. Many courses have been updated to help both restricted license drivers and learners pass the new Driving Tests.
It is imperative to find the right defensive driving school for your needs. You need to find a school that is reputable, preferably one approved by The New Zealand Institute of Driver Educators Incorporated. It will not benefit you to compromise on the quality of training you receive in order to save money. You will not improve your driving skills and it will not help you to pass the new Driving Tests. When deciding on your defensive driving school, don't just compare prices, compare value.
You need to find a school that is close to you and has a schedule which is convenient for you. Enrolling in driver courses will be of no benefit if they are problematic and you do not complete them. Some schools offer online courses. While these offer the ability to take them anyplace and anytime, they cannot give you the benefit of in person driving instruction. It is also important that you be comfortable with your instructor. Look for a school that offers both male and female instructors from which to choose.
If you do not have your own vehicle, you will want a school that can provide one. They should have the choice of vehicles with manual or automatic transmissions. Many times, the school will allow you to use their vehicle to take your test so that you can use the vehicle with which you are familiar.
Defensive driving courses in New Zealand can help you whether you wish to remove penalty points, reduce a restricted license period, or merely get discounts on insurance premiums. Becoming a better driver does not just benefit you, it benefits anyone who rides with you and everyone else on the road.
For more about Defensive Driving Courses in NZ visit: A1 Driving School